Your gift helps us live out our vision to serve the world.
Giving at Living Hope Church
We encourage all those who are part of our Church family to give — not out of obligation — but out of a spirit of worship. Your gifts allow God's work to be done in our midst, in our community, and in the world around us.
Why We Give
"In every way I've shown you that by laboring like this, it is necessary to help the weak and to keep in mind the words of the Lord Jesus, for He said, 'It is more blessed to give than to receive.' " Acts 20:35
Because of you...
We have reached more people with the gospel by upgrading our technology, investing in the next generation, and supporting mission work in Ukraine, Africa and so much more.
Our Vision for 2023
In 2022 we were given many opportunities to glorify God. As our church grows and changes we are excited to see what area's God is calling us into. We look forward to serving our church family as well as our community at large more and more. As our community grows we are looking for more ways to sow into the kingdom and reach more people. A few of our desires are to expand our ministry team as well as ask the Lord for a larger, more conducive space to meet in We hope you'll partner with us!
Giving FAQ
All online giving is through a secure server, you can do a one time gift or set up recurring giving if you prefer.
You can send in your gift through the mail to 113 Palace Lane, Suite J, Williamsburg, VA 23185.
We have a secure giving box available in the sanctuary if you'd prefer to drop your tithe or offering off at the church building or bring to Sunday morning service.
All financial gifts are tax deductible and we will send a form out at the end of the year for tax purposes.
Because of you we provide clothing for our community!
Give now to support this ministry as we serve our neighbors.
In 2022 we launched a new ministry called, Hope Chest. This ministry provides free clothing, no questions asked, to anyone who needs it in the Williamsburg, York County, Newport News area. We have met amazing families who have received from this ministry and look forward to being able to provide more and more resources to those who have a need.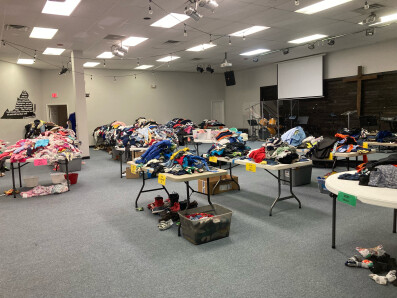 Because of you we are able to stream our services!
In March of 2020 we quickly had to figure out how to live stream our services due to COVID-19. For years we had been recording the audio portion of the sermon but suddenly we could no longer meet in person and wanted to share the video as well. We are so grateful for the knowledge and wisdom a group of believers were able to share. Within a few short weeks we were live streaming our worship services. We also learned how to conduct prayer and group meetings in person and virtually. All of this took an investment in time and financial commitments. Because of you we can now ensure the message of God's hope can reach everyone.